The client
Working for Zanovec Construction on this new build slalom and recreational channel operated by the Sport Club of Whitewater Slalom Kayaking České Budějovice.

What we did
We designed a channel and saw through the project to laying the track in the concrete and initial bloc setup. The course has complex features with diagonals, waves, and holes; suburb for slalom and general recreation.

competition venue
recreational park
natural river water
obstacles
flow analysis
block setup
construction oversight
Check out some video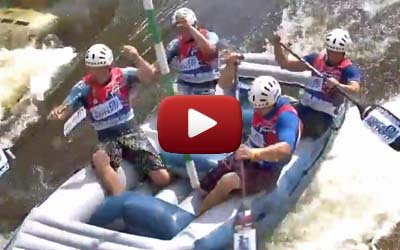 This new 210m long whitewater course in southern Czech Republic has 3.5m drop and a flow of between 8 to 14 cumecs, near the site of an old and well known whitewater channel. The new gravity fed course uses the full RapidBlocs system in a concrete channel with aesthetic stone insets in the high sections of the channel walls and around the main pools.

"

Every day I am surprised by what we have created on 3.5m drop. An amazing variety of whitewater features. The playspot in the warm-up area is a bonus too."

— Jakub Prüher, Chairman of the Sport Club, C1 competitor 1992 Barcelona Olympics

There are several intricate three-dimensional sections of whitewater formed with blocs placed in narrow constrictions to form defined drops and also in downstream groups to form angular waves and secondary features within the main pools. The water is fast, continuous, stable and has good depth throughout. The versatility of the RapidBloc obstacle system allowed the course to be commissioned in two weeks and was quickly open for training and recreation with a stable and exciting configuration forming excellent and challenging whitewater. The Czech 2012 canoe slalom team qualification culminated with an exciting event at Budweis with world class racing and compliments all round for the new whitewater.