The client
New build of extreme whitewater channel and rescue area at the Tees Barrage for British Waterways. The course is operated by Tees Active.

What we did
This recent addition to the Tees Barrage course enables the flow to be diverted down a steeper short course. The RapidBlocs make this otherwise straightforward channel extremely adaptable, for flooded buildings, weir simulation, vehicle rescue and powerful freestyle features.

rescue channel
recreational park
natural river water
obstacles
bloc setup
and much more …
Check out some video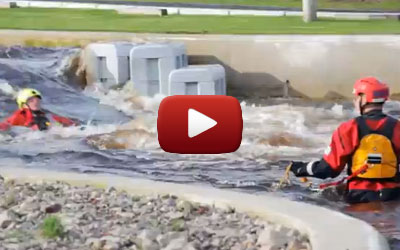 The Tees Barrage short course is one of the steepest whitewater channels in the world with a substantial drop, expertly sculpted by the RapidBlocs system. Highly adaptable, the course has engaged the local paddlesport community in the design of a freestyle feature; it has been used as a hydraulic modelling laboratory and also as a film set for water and flood scenes.
"

We can quickly set up 'buildings' that recreate an urban flood for a realistic and repeatable training environment. We can also replicate common river hazards like low-head weirs in a controlled environment, which is a vital training resource."

— Paul O'Sullivan, Manager Director Rescue 3 (UK)

The overwhelming success of this channel is the ability of the RapidBlocs system to completely change the character of the water, from a 2m deep pool and tranquil flows through to full release and a steep chute. The versatility of the RapidBloc system is most evident during the change from freestyle and recreation paddling to Swift Water Rescue training. The blocs are used to control depths accurately in the channel and whitewater power at various flows, direct flows in the basin towards or away from obstacles for swimming and vehicle rescue practice. The blocs can also be used to build mock facades for building rescue practice by the emergency services.